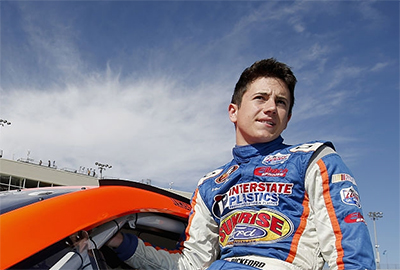 Tuesday, November 10th
On the night of November 10th, James Bickford landed in Phoenix, ready to finish strong in the last race of the season.
Wednesday, November 11th
James spent the entire day at tech inspection, talking over strategy and looking over the car with the Bob Bruncati team. Everything looked good as James mentally prepared for the race.
Thursday, November 12th
8:00am
James drove to the track in the Sunrise Ford Van which had made the long drive down. As practice started, James felt he was fast; his confidence rose. Then the first problem of the day: an ignition box failure.
"We were half power down the entire track" James noted, "We had to hustle to get it fixed."
In qualifying, James was in the middle of the pack to set a time. He placed a strong 3rd, but as the competition took to the track he was bumped down to 11th.
5:30pm
The race began at 5:30pm and the sun was still shining bright over the horizon. (Most of Arizona does not observe Daylight Savings Time.) Around lap 10 the drivers slowed for the first caution flag. On restart James fell quickly behind.
As additional caution flags came, each restart seemed to create more of a challenge.
"The car felt extremely loose; something wasn't right" he remarked, "it turned out that for 40 laps we were driving with a deflated right passenger side tire."
Coming out for the last 50 laps, James quickly worked his way up to 14th place. On the green flag lap he passed one car. Then, in James' signature comeback style, he was able to pass 5 cars on the white flag lap, finishing 8th for the race.
James was pleased with the finish. We asked him to reflect on this past season and to give us his thoughts moving forward.
"I like how we qualified throughout the season, I felt we were fast. Our average qualifying was around 3rd place, that's encouraging. We had about 300 laps led throughout the season which is a great accomplishment. We were unfortunately plagued with problems. We dealt with the problems as best we could, but unfortunately a few bad circumstances set us back."
James had technical difficulties in a few races throughout the season, but always bounced back, never picking up a DNF.
"There's up seasons and there's down seasons. I know next year will be an up season. I'm sad that I won't be with Bob Bruncati and the #6 car, but hopefully there will be a lot of attention around this program that we've built. I'm excited to start focusing on next year."
Read More »